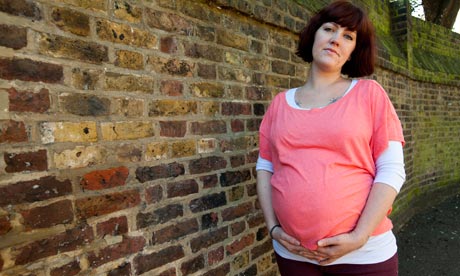 Lucy Wright is due to give birth to her first child on 12 May. Yet just last month, at a time when some prospective parents might be busy painting the nursery, she was making plans to give up her baby within weeks, if not days, of the birth.
Had a high court judge made a different decision on 20 March, Wright, 29, would have been put on a plane to Argentina and sent to serve up to 16 years in jail for trying to smuggle just over 6kg of cocaine from Buenos Aires to London.
Her child would have been brought up by one of her younger sisters. "I thought I'd be sent back," Wright said in an interview in London . "I had admitted what I had done."
But Mr Justice Silber decided she should not be extradited, despite acknowledging that she had confessed to "an extremely grave crime". She should be allowed to stay in Britain, he said, because there was a "real risk" her human rights would be violated in an Argentinian jail.
"It seems clear in this case that the abuses which the appellant would suffer in Argentina are so widespread and systematic that there is a real risk of article 3 mistreatment," Silber said in his judgment. Article 3 of the European convention on human rights prohibits torture, and "inhuman or degrading treatment or punishment".
But Wright's wait is not over. The Crown Prosecution Service is yet to decide whether to press charges against her in this country. Conspiring to import that much cocaine carries a tariff of anything up to life imprisonment.
How did a middle-class woman from Bolton end up agreeing to act as a drug mule – only to get caught, spend time in a Buenos Aires jail, then make a daring escape that involved wading and swimming across a river in the dead of night?
"It took me four hours and I came out covered in mud," Wright said of her border crossing. "I know it sounds insane now, but at the time I was just doing the only thing I could think of at the time. I was on autopilot. I could either give up or cross the river. That was my choice. I chose to cross the river."
The experience has seen Wright change from a vulnerable young woman addicted to crack cocaine to a confident, pragmatic mother-to-be who wants Britain's drug users to think of people like her before they snort a "harmless" line of coke on a Saturday night. "I want people to be aware of the knock-on effect, in terms of what has to happen for that cocaine to get into the country," she said.
"On paper, I am not the sort of person who should end up doing something like that. I come from a relatively middle-class background, I've got A-levels, I've been to university. One silly mistake can lead to something you would never have expected."
Wright's "silly mistake" was triggered, she claims, by the break-up of her first true love at university. She was 24 and in her second year as a student nurse at Great Ormond Street hospital in London when her boyfriend left without saying a word. "It was downhill from there," she said. "I went into self-destruct mode."
One day, she says, she asked a woman she knew aged in her 50s who was "clearly on something", whether she could give her something to stay awake for long enough to finish some long overdue university essays. "I thought she'd get me some speed, but she gave me crack. Within a week I was addicted."
With an expensive habit to feed, Wright says she was soon £30,000 in debt, with three credit cards, three overdrafts and two store cards maxed out. So when the woman's drug dealer asked if she wanted to go to South America for "a holiday" – a holiday that would net her £20,000 – she agreed. "Badness begets badness," is how she puts it now. "I had this mantra: I'd move out, pay back my debts and get back to nursing."
Only things did not go like that. She was arrested at Buenos Aires airport on 14 March 2007 after customs officers sawed open her suitcases and found packs of cocaine inside the metal frames. She says she picked up the drugs from a couple in Cusco in Peru – a somewhat farcical mission which involved so much hanging around that she had time to do the Inca trail to Machu Picchu.
After being strip-searched, Wright was taken to a holding jail. "I was the only woman there. I was put in a cell with no door, just a man sitting in the door. There was no toilet; he watched me go on the cell floor."
The next day, she was bailed by a controversial new judge who believed foreign drug smugglers should pay their own way while awaiting trial. He may have regretted the ruling. Wright hatched a plan to flee Argentina. She claims the idea was prompted by the British ambassador in Buenos Aires, who said he could not help her and that he knew of other Britons serving sentences of "23, 25, 27 years" in Argentina.
The court had taken her passport, but Wright says she persuaded someone she met in a hostel to go to a Western Union office with their passport so that her family could wire her some money. She then set off on the 7,000-mile journey home, heading first to Argentina's northern border with Braziland reasoning that because Brazilians do not speak Spanish, they might not get wind of her escape.
After catching local buses from town to town – a circuitous route from Córdoba to Mendoza to Salta – she eventually arrived in the frontier town of Puerto Iguazu. With no hope of catching a bus over the river Iguazu into Brazil without being arrested, Wright says her "fight instinct kicked in".
Looking over the bridge, she says she noticed a big stretch of the riverbank on the Brazilian side that appeared unpatrolled. That night, wearing jeans, a top and flip-flops and with no luggage, she set off on the most treacherous leg of her escape – a four-hour crossing. "I waited until it got dark and waded in in my jeans and flip-flops. The river didn't look too fast-flowing, but it was silty and muddy. I came out covered in mud, but no one saw me. When I made it, I remember just standing there thinking: 'What do I do now?'
"I knew the British embassy was in São Paolo, so I had to make my way there – that took me four or five days. I was fairly sure I was going to get raped or killed when I arrived there."
To her relief and astonishment, when she asked at the embassy for an emergency passport, they did not ask any difficult questions. Within hours, she was on a flight back to Heathrow. "All the way home I was sure I'd be arrested as soon as we landed, but nothing happened."
Over the next two years, she rebuilt her life and started a degree in community and youth work at Manchester Metropolitan University. Then on 4 April 2009 Wright was arrested back home in Bolton, while driving her twin sisters to Pizza Express.
She spent "about three weeks" in Holloway prison in London before being released on bail after her mother stood £4,000 surety and a stream of former colleagues at Great Ormond Street provided character references.
Three years of extradition proceedings appeared to have ended when Wright won her appeal at the high court. To ensure success, however, she had to confess to her crime and declare she would admit attempted drug smuggling were she put on trial. On Wednesday 28 March, the CPS said it had no plans to appeal against the judgment – but that it did not know yet whether police wanted to investigate Wright and press charges.
Wright is sanguine about this possibility – but says she is frustrated that for years British police have declined to take statements from her about the drug dealers who sent her to Argentina. "I told them I would help find these people, but they weren't interested," she claimed.
She says she understands why people might think she deserves to be punished, but insists sending her to jail would serve no purpose. "If you look at the purpose of prison, then it would be entirely pointless. I'm not going to learn a lesson in there; I've already learned my lesson. I had never committed a crime before all this and I haven't since. It would be a waste of time and money." Wright hopes her story will change people's views on drugs and the sort of people who risk everything to smuggle them into the country.
"I think it's very narrow-minded of people to separate society so definitely. That homeless person on the street, that beggar, that sex worker, a drugs mule – they're not in another world from you.
"Three years ago they might have been in very different situations. The line between them and you is thinner than you think."