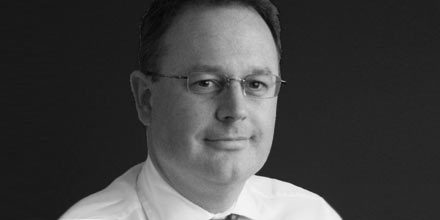 The arrests have been confirmed by Avon and Somerset Constabulary, which said that the men aged 45, 36, 49, 57 and 23 have all been bailed pending further enquiries but not charged.
The arrests are in connection with high value fraudulent transactions that saw money leave accounts held at Rowan Dartington. The events are understood to have taken place prior to the management buyout headed by current chief Graham Coxell (pictured), who is not one of the five arrested, in February of last year.
A spokeswoman for Avon and Somerset police said the investigation expanded beyond the Bristol area, with the Cumbria police force also involved. She was unable to confirm if any of the five suspects were former Rowan Dartington employees.
She stressed that Rowan Dartington was the victim in the investigation rather than a suspect and 'substantial' amounts of money were involved.
The FSA declined to comment and said it was unable to confirm or deny whether Rowan Dartington was the subject of an investigation by the regulator.
In a separate incident, Rowan Dartington was previously fined £511,000 by the FSA in June 2010 for failing to protect and properly segregate client accounts over a two-year period, following a settlement system failure dating back to 2007. This caused the firm's back office to be saddled with more than 150,000 unreconciled trades and eventually led to a £1.4 million black hole in the stockbroker's accounts.
Since Coxell took over the business in February last year, he has sought to position the business to benefit from the retail distribution review and announced plans to launch a platform. He has also sought to rebuild the investment management team with the hires of Ashcourt Rowan's head of collective research Tim Cockerill and Oliver Cowell from Redmayne-Bentley.
Rowan Dartington declined to comment.