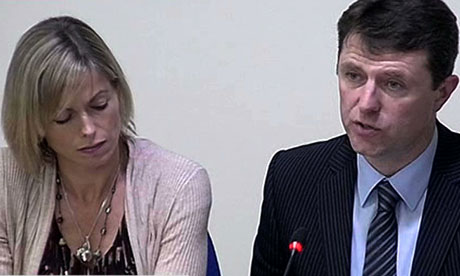 Kate and Gerry McCann made an impassioned plea for press regulation after delivering an emotional account of their treatment by the tabloids, describing the string of "disgusting" and "offensive" stories published about them.
She said the now defunct newspaper had showed "absolutely no respect for me as a grieving mother" when it ran the story in September 2008 under the headline Kate's Diary: In Her Own Words. "I'd written these words, my thoughts, at the most desperate time of my life," she said.
Mrs McCann added that she had talked about "climbing into a hole and not coming out" after the article appeared. "It made me feel very vulnerable and small. That whole week was very traumatic and every time I thought about it I couldn't believe the injustice."
Her husband, Gerry, said the couple wanted an investigation into how the diary, which was seized and copied by Portugese police, was leaked to the Murdoch tabloid. Lord Justice Leveson, who has legal powers to summon witnesses and compel evidence, indicated that he might heed their call.
The McCanns' evidence is likely to strengthen the argument for a stricter regime of press regulation. Leveson, who was appointed by David Cameron at the height of the phone-hacking crisis, is due to report within a year.
The McCanns painted a disturbing picture of life at the centre of a media scrum. Gerry McCann said: "We expected the storm to calm with the passage of time but it continued day after day. We had anecdotal evidence from the British journalists in in Praia da Luz that the story of Madeleine's disappearance had caught the imagination of the British public and was driving sales in the UK. As a result those journalists were under intense pressure from their newsdesks to file more copy."
Photographers camped outside the house, Kate McCann said, frightening their two young children. "There were several occasions where they would bang on the windows. Amelie said to me several times: 'Mummy, I'm scared.' "
Her husband accused a former editor of the News of the World, Colin Myler, of "berating" them for conducting a 2008 interview with Hello! magazine on the first anniversary of Madeleine's disappearance.
"I've seen no journalist or editor brought to account, be it the Express or any other group ... they are repeat offenders, they should lose their privilege of practising," he said.
The McCanns argued that newspapers should not be allowed to take pictures of subjects when they are in public places. They also spoke movingly about their reaction to a front-page Daily Mirror story about Madeleine that declared: "She's dead". It was based on an article in a Portugese paper, which quoted a source close to the police investigation who said they didn't know if she was alive or dead. Gerry McCann said they learned about the story at 11pm when they were just about to go to bed. "That was one of the most distressing headlines that was just taken from supposition. It was incredible."
Talking about her diary, Kate McCann said she believed that it was taken from her by Portuguese police and later returned. However, she said that someone must have photocopied the private diary and given it to the press.
She said there were minor differences between her own diaries and those that were published by the NoW, leading her to believe that they had been translated from Portuguese and back again.
The paper apologised a week after publishing the diaries and said: "We published the extracts in the belief held in good faith that we had Kate's permission to do so."
Leveson indicated that he might call the journalist who wrote the story to give evidence and might also question other senior executives at the paper, which was closed by Rupert Murdoch in July, about how the diaries were obtained.
Earlier in the day Sheryl Gascoigne, the former wife of Paul Gascoigne, told the inquiry that she had been hounded by press photographers while heavily pregnant. She said she was forced to crawl on her hand and knees while her arm was in a sling to escape the paparazzi.
Gascoigne told Leveson that everyone in the public eye knew that the Press Complaints Commission was "a waste of time". She said corrections should be given the same prominence in newspapers as the articles in which they orginally appeared.
Mark Lewis, the solicitor whose clients include the footballers' union chief Gordon Taylor, Milly Dowler's parents and the ex-Premier League footballer Garry Flitcroft, also gave evidence to the inquiry.
He said he had been warned in a telephone call that Paul Dacre, editor-in-chief of the Daily Mail, would sue him if he continued to claim that the paper had been involved in phone hacking.
Lewis said that threat was made in a phone conversation with a Daily Mail lawyer, Liz Hartley, on 25 January 2011. "Be aware that Paul Dacre is someone who will sue you if you suggest that we were involved in hacking," Hartley allegedly told him.
He also claimed that he had heard from a journalist that Rebekah Brooks, former chief executive of
News International
, had threatened to "get him back" for demanding her resignation and that she would exact her revenge in another newspaper.
:Text may be subject to copyright.This blog does not claim copyright to any such text. Copyright remains with the original copyright holder.