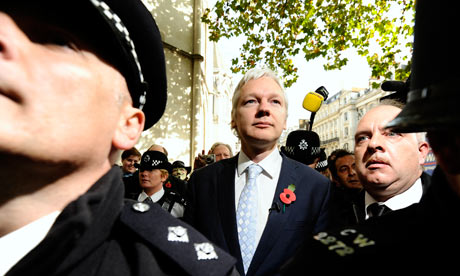 The two high court judges who dismissed Julian Assange's appeal against extradition to Sweden seemed rather surprised that his counseldidn't immediately ask for permission to appeal to the supreme court, says Joshua Rozenberg. But Assange says he may not have the funds to fight on.

The judgment may turn out to be good news for other people fighting extradition, adds Rozenberg:
"A rather interesting passage in paragraph 17 of the judgment... offers a new exception to the general principle of mutual recognition underpinning the European arrest warrant - that each European country respects the decisions of each other's courts without asking too many questions. Thomas and Ouseley said that public confidence in the EAW would not be advanced unless the courts of the country that's being asked to hand over an accused person "scrutinise requests for surrender under the European arrest warrant with the intensity required by the circumstances of each case".
Failure to do so could risk undermining public confidence in the EU's "common area for justice," the judges stressed.

In a similar vein, Dominic Grieve told the European court of human rights on Tuesday that national parliaments, not European judges, should decide whether prisoners have the right to vote - the latest move in his bid to increase the UK's latitude in cases that reach Strasbourg. But in the EUtopia blog's first article on Guardian Law, Christopher Brown says talk of repatriating power from Brussels is still unrealistic - though governments should have more than six weeks in which to scrutinise and comment on draft EU law.

And a man who took photos of the court during the Assange ruling was held in custody for two hours and given a stern rebuke by the president of the Queen's Bench division.

Meanwhile, the legal aid and sentencing bill passed the Commons without substantial difficulty. Labour attacked the Lib Dems for tabling amendments opposing parts of the bill but subsequently voted againstnear-identical amendments tabled by Labour. This, it appears, is coalition government at work. Paul Mendelle QC takes particular exception to the changes to the law on self-defence:

"None of those familiar with the law in action had suggested the law was obscure or unfair or needed reform. Amending legislation to do no more than change the appearance of the law without affecting its substance distracts attention from a fundamentally objectionable bill that deprives so many of legal aid and radically threatens the quality of the entire justice system. It is purely cosmetic, like putting lipstick on pig, and just about as useful."